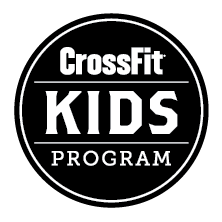 CrossFit Kids is a method for teaching Fitness to children ages 6-16. Based on the principle of Mechanics, Consistency and then Intensity, CrossFit Kids emphasizes good movement throughout childhood and adolescence. Good mechanics translates to physical literacy, enhanced sports performance and fewer sports injuries for kids. Not only that, a vast body of research indicates that exercise is beneficial to cognitive function, which means consistent adherence to the program can have a positive impact on children's academic achievement.
CrossFit Preschool (ages 3-5): Get your munchkins moving with this fun 30 min fitness class where they will learn basic bodyweight movements in a game like setting.  Class is offered on Saturdays at 9am.  Program runs for 6 weeks.  Next session begins May 25th and ends June 29th. We have added a class on Mondays at 6pm which will run for 5 weeks May 27th to June 24th.
CrossFit Kids (6yrs to 12yrs):  There are three options for your kids.  They can choose to participate once, twice or 3 times per week.  Classes are held on Mondays at 6:30 pm, Thursdays at 5:30 pm and/or Saturdays at 9:30 am. The spring session begins on Monday April 1rst and runs through to Saturday June 22nd. There is no class on Monday May 20th**make up class on Monday June 24th (to replace Victoria day stat holiday).
CrossFit Teens (12yrs to 15 yrs):  Tuesdays 7:30pm and/or Sundays at 10:30am.  Spring session begins Sunday April 7th and ends Tuesday June 25th.
** Summer programs begin early July.  No weekend classes will be held during the summer months.
1x per week
Saturdays at 9am
6 weeks $80 + tax
1 x per week
Mondays 6:30pm, Thursdays 5:30pm or Saturday 9:30am
12 weeks $158+ tax
2x or 3x per week
Mondays 6:30pm, Thursdays 5:30pm and/or Saturday 9:30 am
12 weeks $220- $297 + tax
1 x per week or 2 x per week
Tuesdays 7:30pm and/or Sun 10:30am
12 weeks $158-$220 + tax
For more information, contact: Cynthia: cfotticrossfitrush@gmail.com